About Ryan
Management ::
Who we are
The Ryan group owes its success to the excellent team created by the Founder Chairman Dr. A.F. Pinto and Director Madam Grace Pinto. Today the Group Management has evolved into a cohesive and well knit network of professionals.
Top management, including the Founder – Chairmen Dr. A.F. Pinto, visits internationally renowned schools in India and abroad and puts into practice several new concepts absorbed in the process. The Group is constantly involved in the learning from others and sharing its experiences with other educational institutions.
With the dawn of each New Year and the passing of each new day, the Ryan management rededicates to the mission of carrying the ever radiating torch of education into the Big World.
Dr. Augustine Francis Pinto
Founder- Chairman
Ryan International Group of Institutions
Ryan International Sports Club
National Development Foundation
Trustee-Vanrai, Pune & Nagpur
Chief Editor- Hello Student
AWARDS & RECOGNITIONS CONFERRED UPON DR. A.F PINTO
Inauguration of Corporation Bank, on 28th Jan 2007, for inaugurating the 886th branch of Corporation Bank, at Krishna Tower, 8/8A,Sector-9, New Panvel[W]
Faith Award, on 14th March 2004, for commendable efforts towards the enhancement of education all over India, instituted by Faith Publications.
Samson A. Daniel Award for the highest contribution made to HelpAge India received by Honorable President of India, Shri A.P.J.Abdul Kalam on 1st October 2003.
International Personality of the Year 2001 in recognition of service to Education from the International Biographical Center, Cambridge U.K.
Awarded the Indira Gandhi Paryavaran Purashkar 1999 by His Excellency Shri Bhairon Singh Shekhawat, the Vice-President of India, for his contribution to the field of Education and Environmental Conservation.
Sheriff of Mumbai-2000
Madam Grace Pinto
Managing Director
Ryan International Group of Institutions,India
AWARDS & RECOGNITION CONFERRED UPON MRS. GRACE PINTO
Reappointed as the Vice Chairman of the Maharashtra Pradesh Congress Committee- Education Cell in 2008.
Priyadarshni Award, on 22nd March 2007, an appreciation memento was awarded to her by Shri. Dilip Walse Patil-Hon'ble minister for Energy, Technical and Medical Education, Govt. of Maharastra for "Outstanding contribution in the field of Education"
International Kohinoor Award, on 7th Feb 2007, at Kathmandu-Nepal, for promoting Global Integration at an International Conference on "Indo-Nepal Friendship & Economic Co-operation"
'Icons Beyond the Boundary', on 20th Jan 2007 in Kurla-Mumbai, presented for her Educational & Social Services by Shri. S.M.Krishna, Governor of Maharashtra.
Vidya Maharishi Award, on 6th Jan 2007 at Mumbai, for her Yeonem service in the field of Education by Shri. Julio Ribeiro former Police Commissionar of Mumbai and former D.G.P of Punjab.
Help Age India's Silver Plate Award, on 1st Oct 2006 at FICCI Center,New Delhi on World Elders Day by Hon'ble LokSabha Speaker Shri. Somnath Chatterjee for her yeomen services rendered to senior citizens.
The "Pride of India Award" for Social and Educational Service and Culture and the Gold Medal for excellence by His Excellency Dr. A.R. Kidwai, Governor of Harayana on 25th May 2005 in Chandigarh.
"Rashtriya Rattan Award" for her outstanding individual achievements and distinguished service to the nation by His Excellency Shri V. Raman Rao, Governor of Sikkim on 23rd March 2005 at India International Center, Delhi.
The Social responsibility Award 2004 by Help Age India in New Delhi presented on 1.10.2004 for the love for humanity and for promoting the cause and care of the elderly.
The Rajiv Gandhi Shiromani Award 2004 presented by Honorable Governor of Goa, Shri S.C. Jamir on 22nd August 2004 in Delhi for her educational services in the country.
The "Indian with a Difference" Award presented to her by Vision of India on 8th June 2004 at Bangalore.
The Best woman Educationist Award Presented by the Mayor of Mumbai Shri Mahadeo Deole on 7th March 2004 on the occasion of International Women's Day.
A MESSAGE FROM THE CHAIRMAN
The Ryan International schools are dedicated to providing their students with a headstart in today's competitive world . In addition to the 3 Rs , emphasis is laid on nurturing character, personality, values and vocational skills.
By education we mean an all-round drawing out of the best in child and adult-body, mind and spirit. Literacy is not the end of education nor even the beginning. It is only one of the means whereby man and woman can be educated. Literacy in itself is no education.
All children can grow and learn in a safe, caring and orderly environment. Our mission at ryan is to educate children through a comprehensive academic curriculum, supported by critical thinking skills, as well as communicating skills.Students are provided oppurtunities that promote social, emotional, cultural, mental and physical growth.
We intend to have a Ryan International School in each of the metros, mini metros and A-class cities of India, to meet the ever-burgeoning expectations of the Urban professionals for their children. The high standards we have been maintaining in our schools are reinforcement of our basic beliefs. "Where the vision is one year, cultivate flowers, Where the vision is ten years, cultivate trees, where the vision is eternity, cultivate people".
A MESSAGE FROM THE MANAGING DIRECTOR
With the dawn of each New Year and the passing of each new day, we at the Ryan and St. Xavier's Group of Schools, rededicate ourselves to our mission of carrying the ever radiating torch of education into the big Wide World. In this, our unfailing faith in the Lord Almighty helps us to remain committed, steadfast and strong, for He remains our Father, who leads us.
Today, the Ryan Group of Institutions with its more than 100 schools has worked its way up, to be Nationally acclaimed and Internationally recognized.
Through the education we impart to our children, we endeavour to reach out to Society and thereby into a repidly progressing world. We firmly believe that grooming every child entrusted to our care, chiselling his talents and empowering him academicaly is important. Preparing him socially with the help of the parents to give him emotional security and strength, will help him to fly out into the broad expanse of this universe to lead a life of dignity and success with God's blessings.
A MESSAGE FROM THE PRINCIPAL OF RYAN AMRITSAR
It is both a privilege and pleasure to present our first news letter "ENDEAVOUR". Education is a never ending , on going process and as the world shrinks with revolutionized  communication system  coupled with ever growing awareness across the  globe, the challenges faced by schools are far too many. The day is not far when we see a paradigm shift in our education system, and we at Ryan become the pioneers in this new world of education. And undoubtedly the inspiration and guiding force behind these feelings is none other than our visionary Chairman Dr A F Pinto and gracious Madam Grace Pinto.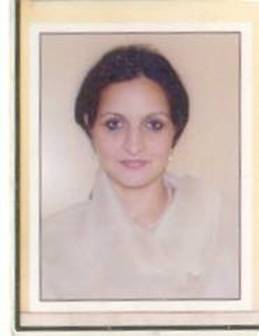 At Ryan's, we endeavor to implement the vision as enunciated by our Chairman and follow the principle of KASSAM – Train children in KNOWLEDGE, ATTITUDE , SKILLS, SOCIAL and MORAL values. We believe that right blend of aptitude and attitude in a sure recipe for success, keeping these principles in view besides regular academics, myriad activities are included in day to day teaching learning process thereby creating an ambient of holistic development of children. We endeavor to make our students academically sound, morally upright, spiritually strong and socially sensitive and globally aware "THE GREATEST GIFTS YOU CAN GIVE YOUR CHILDREN ARE THE ROOTS OF RESPONSIBILITY AND THE WINGS OF INDEPENDENCE."
Introduction To Ryan International, Amritsar
The foundation stone of Ryan International School, Amritsar was laid on 12 Sept. 2005 by honorable  Chairman Sir Dr.  Augustine F. Pinto